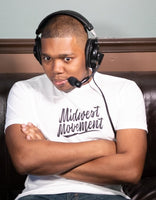 Support The Movement
Established in 2018, Midwest Movement is a lifestyle brand with roots in the Fighting Game Community. Instead of waiting for opportunities, we decided to create our own.
You don't even have to know what a Shoryuken is to know what passion is. The Movement is all about devoting yourself to your craft, while having a laid back attitude to boot. Identify your talents and share them with world.
1/4th of each purchase will go towards funding travel expenses for Midwest Fighting Game players/content creators who do not have the opportunity to travel as much as others.